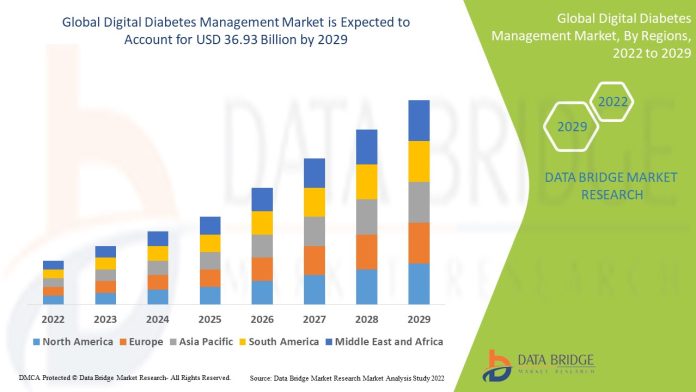 According to WHO estimates, diabetes affects 422 million people globally and is directly responsible for at least 1.6 million fatalities per year. Over the last three decades, the healthcare sector has experienced a dramatic growth in the number of diabetes patients globally. Diabetes patients are putting a pressure on the world's healthcare systems, which are anticipated to cost at least $490 billion USD by 2030. Diabetes is a chronic condition that requires continual monitoring of blood sugar levels and lifestyle decisions. Diabetic patients must monitor their lifestyles more closely than non-diabetic ones.
Definition
Medical solutions for remote diabetes monitoring, analysis, and treatment are referred to as digital diabetes management. Diabetes is a metabolic condition that causes the blood sugar levels in the body to increase. Digital diabetes management includes the use of software-based applications, platforms, and devices such as smart glucose metres, insulin pens, sensors, closed-loop systems, and insulin patches. These systems are utilised to successfully track and retain patient information, as well as regulate blood glucose, blood pressure, and cholesterol levels. They also help to enhance healthcare procedures, reduce or avoid diabetic problems, and save medical expenditures for individuals. As a result, they are commonly utilised in at-home and self-care settings, as well as hospitals, clinics, and research facilities.
Fundamentals of digital diabetes management market
During the forecast period, emerging innovations in smart insulin pens are expected to boost the worldwide digital diabetes management market. For smart insulin pens, the iSenz adapter is used to detect insulin levels. It provides injection angles for optimising diabetes injection sites. Easylog is an adapter for insulin pens that are connected to the internet. It provides the right dose and greater comfort to those suffering from chronic conditions such as diabetes. InsulCheck is a cap that fits insulin pens and includes a temperature and consumption sensor. These are just a few instances of smart insulin pens that are accelerating market expansion.
Smart insulin pens provide several advantages for diabetes control. These pens include added features that make it easy to remember the last insulin dosage. Daily insulin injections with a syringe and needle are difficult and uncomfortable. Because of advancements in device communication technology, more individuals are utilising their cellphones and the internet to track their records, which promotes market development.
Growth in digital diabetes management market
According to Data Bridge Market Research, the digital diabetes management market, which was valued at USD 17.74 billion in 2021, is predicted to grow to USD 36.93 billion by 2029, at a CAGR of 9.60% from 2022 to 2029. The market reports curated by Data Bridge Market Research include in-depth expert analysis, patient epidemiology, pipeline analysis, pricing analysis, and regulatory framework, in addition to insights on market scenarios such as market value, growth rate, segmentation, geographical coverage, and major players.
The digital diabetes management market is divided into three categories: product and services, type, and end user. The growth in these categories will assist you in analysing meagre growth sectors in industries and providing users with a beneficial market overview and industry insights to assist them in making strategic decisions for finding key market applications.
Key players in digital diabetes management market
The competitive landscape of the digital diabetes management market includes information by competitors. Corporate overview, financials, revenue produced, market potential, investment in R&D, new market efforts, worldwide presence, production sites and facilities, production capacity, company strengths and weaknesses, product launch, product width and breadth, application domination are all mentioned. The data points shown above are only connected to the firms' emphasis on the digital diabetes management sector.
Some key players operating in the digital diabetes management market include Abbott Laboratories; Medtronic plc; F. Hoffmann-La Roche Ltd; Bayer AG; Lifescan, Inc.; Dexcom, Inc.; Sanofi; Insulet Corporation; Ascensia Diabetes Care Holdings Ag; and B Braun Melsungen AG.
Growth Hampering Factors
High Cost: Digital diabetes management systems can be rather expensive, making them unaffordable for certain patients. Because it is not available to everyone, this may limit market expansion.
Lack of knowledge and education: Because many diabetics are elderly, it might be difficult for them to comprehend how to use digital diabetes solutions efficiently.
Integration with existing healthcare systems can be problematic, making it difficult for healthcare practitioners to obtain and use data from these technologies.
People may be hesitant to adopt digital diabetes management solutions due to worries about the privacy and security of their personal health information.
Patient engagement and adherence to digital diabetes management solutions are lacking.
About Us
Data Bridge Market Research is a global market intelligence supplier for the healthcare, FMCG, automotive, food and beverage, and other industries. Data Bridge Market Research is a market research company that specializes in advanced formative research. We take pleasure in providing data and analysis that matches and satisfies the needs of our existing and prospective customers. Our analysts can also supply you with data in raw raw excel files pivot tables (Fact book) or help you create presentations using the data sets included in the report.
Apart from this if you are interested to know about Sweat It Out: How Saunas Can Help You Achieve Your Health Goals then visit our Health category.